I have heard about RTR for several years now and always thought the concept of renting clothes for a fraction of the price was genius.  After all, girls are totally guilty of not wanting to wear an outfit again after getting pictures wearing it. Is this a little ridiculous? Sure.. but is it true. Yes! And I am totally here to say I am guilty of this too. With that being said, it gets really expensive to buy new clothes at full price constantly. Renting is just pure genius.
I am a little late to jump on the rental service trend. I owned a clothing store for four years and had access to buying clothes at wholesale prices. I also offered a consignment service to the public where I sold gently used quality clothing. As an owner, one perk was I always had first dibs on what was brought in! This was super fun. With over 1,000 consignors I had PLENTY enough clothes to choose from on the daily at a really good price!  So really, there was no need for me at the time to use a rental service.
I accumulated so many clothes over the course of those four years that it has lasted me for a few years after and I am finally ready for a new wardrobe! I remembered Rent The Runway where I could rent luxury fashion and decided it was finally time to give it a try!
Let's break down some of the guidelines and my overall experience.
What type of brands does RTR let you rent?
Think brands that high-end retailers such as Nordstrom and Bloomingdales carry. With over 1,000 brands carried on RTR here are a few I immediately think of.  Tory Burch, Kate Spade, Free People, Vera Wang, Rebecca Minkoff, Show Me Your Mumu, Tibi, MINKPINK, Elizabeth and James, Diane Von Furstenberg and Lilly Pulitzer.
How much money are you saving?
On my recent order I paid $75 total (I will discuss the different payment plans below) and I got this pom sleeve sweater by (Nude) that retails at $395!
Coat by Waverly Grey that retails at $275. Check my Instagram @mostlymacies this week for pics wearing it!
This red leather jacket by Slate & Willow that retails at $695 – Check my Instagram @mostlymacies for pics in it this week!
This black knit top by Hunter Bell that retails at $297, Check my Instagram @mostlymacies later this week for pics wearing this adorable top!
 ** I saved $1,587!! ** 
Am I pleased with the entire process and customer service?
I am totally pleased with the quality and condition of the items. I especially love that they send everything to you on hangers and in a black bag with handles. This comes handy when traveling and also for you to send the items back in. Also, each item has clear plastic to keep it clean and separate from the other items. RTR takes care of all dry cleaning services so you do not have to worry about that!
One item I chose was actually no longer available and customer service was very nice to let me know how to pick a new item. They went ahead and sent me the other three so I did not have to wait and the fourth item got shipped after I picked a new one.
The only piece of advice I can give you so that everything runs smoothly is to allow room for shipping in case it takes a little longer than their expected delivery date. For example: I ordered items last Wednesday night (it was almost midnight so technically almost the next day). RTR has a 2 day delivery and my expected delivery date was supposed to be Friday. I wanted the items for my weekend festivities. However, I did not receive until Monday morning. I do not blame RTR, you just have to plan a little more in advance. The postal service does their best but can not always guarantee exact delivery so just order a few days in advance of the given expected delivery date! Especially if you need the items for an event, you do not want to be stuck without an outfit!
How do you get started? 
Easy! Click this link below to get 20% OFF your first purchase. You can rent just one or two items at a time OR you can choose a "plan". A plan is really a better value! The "RTR UPDATE" plan is where you pay $69 a month and get to choose 4 items and can do one swap a month. The most popular plan is "RTR UNLIMITED" where you get UNLIMITED outfits and swaps within a month. It is $159 a month but RIGHT NOW you can get $80 off your first two months AND you can pause or cancel at anytime. Here ya go to get started!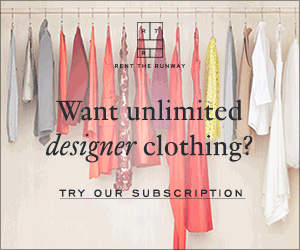 Don't forget to shop the clearance section too! You can actually buy these items if you want to actually own the item!
As always, any questions just write me via the contact tab on this site or email macie@mostlymacies.com !
XOXO,
Macie